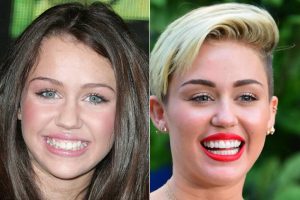 How do celebrities keep their teeth so white? Many celebrities have
dental veneers
to disguise any stains, discoloration, chips or minor gaps in their teeth. At Charlotte Center for Cosmetic Dentistry,
top cosmetic dentist
Dr. Patrick J. Broome, DMD, helps ordinary people achieve red carpet-ready smiles with smile makeover services including professional teeth whitening and
porcelain veneers
. Can you tell which Hollywood stars have veneers? Probably not, because veneers are indistinguishable from natural teeth when applied by a skilled cosmetic dentist. Miley Cyrus, Demi Moore, Tom Cruise and Nicolas Cage are just a few of many celebrities rumored to have dental veneers. For a camera-worthy smile like these celebrities, get in touch with Dr. Broome and his staff of dental experts to learn how porcelain veneers can transform your smile.
Did Hilary Duff Get Veneers?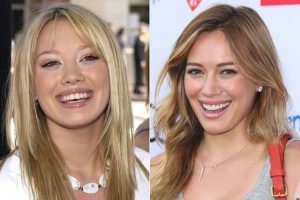 Actress and songstress Hilary Duff also boasts notable before and after smile photos that seem to suggest the work of a skilled cosmetic dentist. In her "before" photo, Hilary's natural teeth are a bit uneven, with a noticeable chip on her left canine (front tooth). Hilary's "after" smile photo shows straight, white teeth with no evidence of chips or imperfections. If your teeth get chipped or cracked due to a workplace accident, sports injury or other trauma, call Dr. Broome and ask how he can help
restore your smile
to its natural beauty. You could have a new smile in just two visits!
Zac Efron's Smile Makeover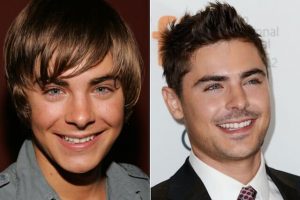 Zac Efron, star of Disney's "High School Musical" and the new comedy "Neighbors", is another celebrity who may have dental veneers. As you can see in this before and after photo from Huffington Post, his original smile features a small gap between his two front teeth. Today, he has a straight, white smile with no gap.
Many patients are surprised to learn that porcelain veneers can close small gaps between teeth without braces or aligners. Unlike braces, which may take several years to produce results, porcelain veneers require just two visits to complete. Your first appointment, Dr. Broome will take an impression of your teeth and send for custom-made, high-quality porcelain veneers. When you return, Dr. Broome will affix the veneers to your teeth with a cement-like paste. Veneers can easily last 10 to 20 years with good dental hygiene such as regular brushing and flossing, plus regular oral check-ups.
Why Should You Consider Getting Veneers?
Many patients opt for
porcelain veneers in Charlotte
to address a variety of
aesthetic issues
including:
Teeth stains or discoloration too severe for professional teeth whitening to rectify
Misaligned teeth
Cracked or chipped teeth
Small gaps between teeth
Every single porcelain veneer is custom-made to fit your tooth, ensuring a natural, durable result. The application of veneers is not painful and requires no anesthetic. Best of all, the procedure is quick and offers long-lasting results!
Contact Dr. Broome at Charlotte Center for Cosmetic Dentistry Today
Dr. Broome believes that every patient can achieve a celebrity smile. If you are interested in getting whiter, straighter teeth with porcelain veneers, all you need to do is visit
Charlotte Center for Cosmetic Dentistry
.  Call us at (704) 364-4711 for more information about this quick and painless procedure. Next, learn about
how this patient achieved her beautiful smile with veneers
. (Photos courtesy of
The Huffington Post
.)