IV Sedation
For many people, the thought of spending even a short time in the dental chair is enough to produce anxiety. Today, there are solutions for patients that just want to relax and for those that struggle with serious phobia and anxiety.
Charlotte Center for Cosmetic Dentistry
has been at the forefront of
sedation dentistry
for over a decade. Our office was designed with our patients' comfort and relaxation in mind. From the moment you enter you will see and feel the difference.
Read More
Our warm and relaxing spa-like atmosphere, complete with complimentary paraffin hand treatments, massage chairs, and Bose noise-cancelling headsets, make the experience very relaxing even without any sedation options. For those that need another level of care we offer IV sedation so our patients can finally receive the care they want and deserve.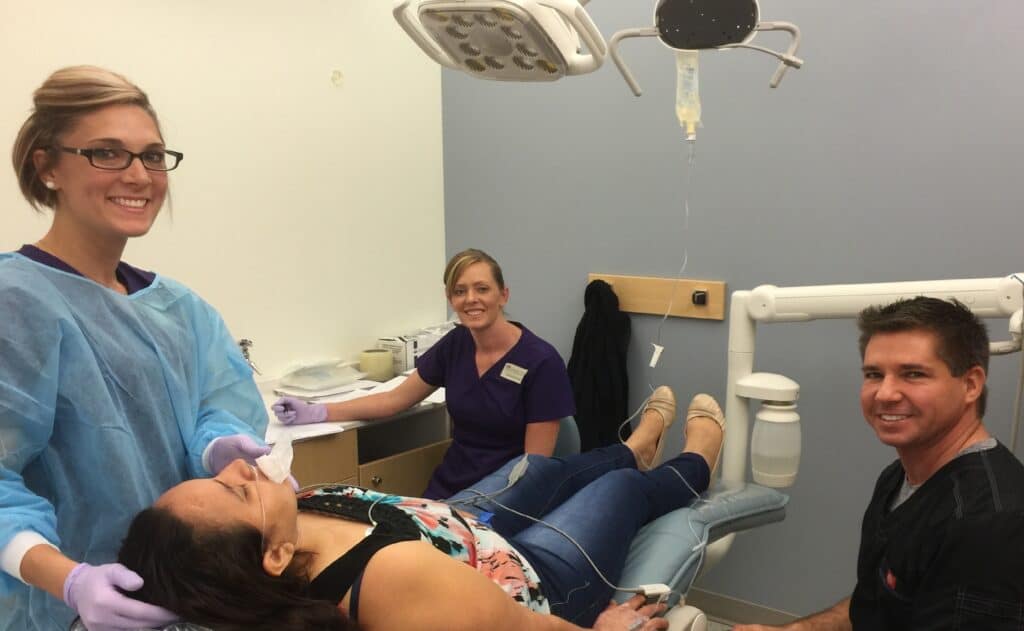 Dr. Patrick Broome has offered oral sedation options for his patients for more than 12 years. Due to increased patient request for IV sedation, Dr. Broome decided to add this service in 2015. For his IV sedation training, Dr. Broome specifically sought out the best training available in North America. It was important to Dr. Broome that he train under the direction of dental anesthesiologists and that his training include actual live patient treatment. In Charlotte, North Carolina, if a dentist is not IV-certified, they are prohibited from using more than one dose of one oral sedation medication. Though this law has restricted the use of oral sedation in many dental offices, our office has remained unaffected! This is because Dr. Broome is IV-certified and therefore able to offer his patients multi-dose oral sedation and IV sedation! The IV sedation training program offered by Dr. Ken Reed, Dr. Stanley Malamed, Dr. Amanda Okundaye, and Dr. Andrea Fonner met all of his requirements and provided an intense 12 day clinically-based training that included clinical treatment of individual patients at Oregon Health & Science University School of Dentistry (OHSU). Dr. Broome was responsible for administration and management of the IV sedation as well as completing all the scheduled dental needs for his patients. Typical case times ranged from one hour to more than three hours for each patient. Team training is important at Charlotte Center for Cosmetic Dentistry, so both of Dr. Broome's main clinical assistants attended the IV sedation training and assisted during all clinical treatment. Dr. Broome and his team will be happy to answer any IV sedation questions you may have and look forward to meeting you soon! To learn more about sedation dentistry, please contact us to schedule your appointment.
What is IV Sedation Dentistry?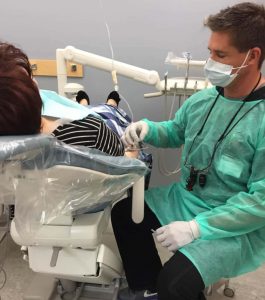 IV sedation, or intravenous sedation, simply means Dr Broome administers the sedation medication used to relax his patients through a vein instead of by mouth. This method is fast, effective, and very safe. IV sedation is an advanced sedation method not offered in most dental offices. This sedation option is actually considered safer than oral sedation because the amount of sedation medication can be adjusted based on the patient's needs. It is important to note that IV sedation does not put a patient to sleep nor is it intended to produce a level of unconsciousness. All patients are comfortable and relaxed but respond if asked a question and able to breath on their own. Relaxation and comfort is the primary objective. Our patients tell us they have little to no memory of the procedure once the IV medication is administered. Many patients prefer this method over oral sedation because IV sedation works faster and eliminates waiting for the pills taken orally to go to work. The IV sedation medication is administered through a small catheter that is placed at the top of the hand or inner arm. Dr. Broome believes in using the very best equipment and tools for every procedure. We utilize advanced catheters that are safe and comfortable.
What are the Advantages of IV Sedation?
Ultimately, intravenous sedation is designed to make a dental appointment as comfortable as possible. Safety is one of the best aspect of IV sedation. Since Dr. Broome has direct access to the bloodstream he can administer additional medications as needed. IV sedation is an excellent option for patients that need procedures such as extractions, root canals, and dental implants. In a matter of minutes, patients who might otherwise
feel overwhelmed with anxiety
can feel completely relaxed and remember nothing of the procedure. Additional advantages include:
The level of sedation can be increased or decreased as necessary, depending on the patient.
The effects of intravenous sedation occur faster, can be adjusted in a more precise manner. This allows for quick and efficient appointments.
Patients are not unconscious during the appointment, but simply very relaxed and comfortable.
Dr. Broome can perform procedures such as implant placement or extractions quickly for patients who may prefer to remember little to nothing about their visit.
IV sedation may be recommended for patients who experience fear and anxiety about going to the dentist, as well as patients who:
Have difficulty sitting still in the dentist's chair
Have very sensitive teeth or gums
Have a severe gag reflex
Need complex dental work or a lengthy appointments
For cases that require anesthesia beyond the ability of IV sedation we can utilize an in-office anesthesiologist. This in-office capability can be made available for patients that require special sedation needs.
For more information on relaxing at the dentist, visit
ncbi.nlm.nih.gov.
What to Expect from an IV Sedation Appointment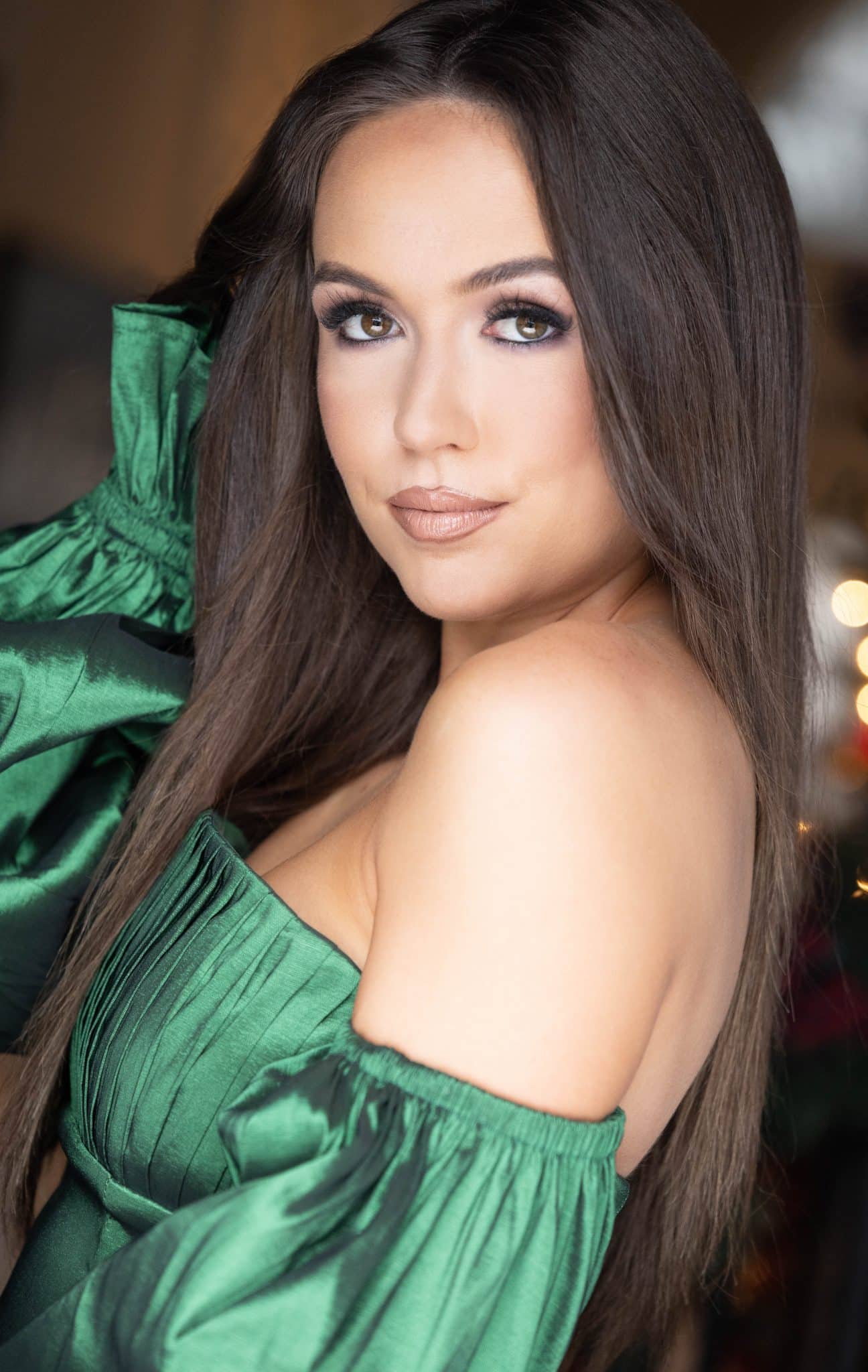 In order to ensure you have a safe and successful IV sedation appointment, we will give you specific instructions and guidelines for your appointment. You can expect to have specific time windows for eating or drinking prior to your scheduled appointment to Charlotte Center for Cosmetic Dentistry. All sedation patients must also arrange to have a family member or friend bring them to our office and pick them up after their appointment is complete. During the appointment, Dr. Broome and two of his IV sedation trained assistants will closely monitor the patient's vital such as, oxygen saturation levels, blood pressure, heart rate, CO2, and EKG readout to ensure that the sedation is safe and working effectively. Within minutes of administering the IV medication, the patient will begin to feel relaxed. Charlotte Center for Cosmetic Dentistry is relaxing and many of our patients describe it as a rejuvenating experience.
Schedule an Appointment with Charlotte Center for Cosmetic Dentistry
Your smile is the first thing people notice about you. Don't let anxiety or fear keep you from a healthy and beautiful smile. Dr. Patrick Broome invites you to visit him and discuss how IV sedation can help you obtain the strong, healthy smile that's right for you! Please
contact our office
in Charlotte, NC for more information about this safe solution to dental anxiety.