Dental Crowns
If you need to restore a broken tooth or improve a discolored or unattractive existing crown, then an all-porcelain
dental crown
from Charlotte Center for Cosmetic Dentistry may be right for you! If you have a cracked or decaying tooth, then chances are you need to replace the damaged tooth structure with a new material such as porcelain, which is a life-like material that mimics natural tooth structure. When a large volume of the tooth structure has been damaged, a restoration called a "crown" is the perfect fix. A crown covers the whole visible area of a tooth and creates a brand-new outer surface for it. Crowns cover more area than a filling and are made of much stronger material. Typically, a filling only patches a tooth in a small area. For this reason, dental crowns are an effective and cosmetically appealing way to fix broken, weak, or damaged teeth.
Read More
Contact Charlotte Center for Cosmetic Dentistry and schedule your consultation to find out if crowns are the best
cosmetic dentistry
option for you. With luxurious amenities, such as private massage chairs, cushy memory foam pillows, and individually controlled satellite TVs, we ensure that our patients are as comfortable as possible during every appointment.
Who Needs Dental Crowns?
At Charlotte Center for Cosmetic Dentistry, we utilize crowns for several dental situations.  A crown is custom-designed to fit your tooth and blend seamlessly with those around it. The new crown is designed to look and feel just like a natural tooth. It will have all the natural grooves and texture of a brand-new natural tooth.  A crown is also called a "cap" that is placed over a tooth to restore its shape, size, and strength and improve appearance. The crowns, when cemented into place, fully encase the entire visible portion of a tooth that lies at and above the gum line. An experienced and skilled dentist from Charlotte, NC like Dr. Broome will of course use crowns when they are indicated, like after a root canal or when a tooth is severely damaged, or when major bite changes are needed.  Sometimes crowns can be used to save a tooth that may have a small crack or is at risk of breakage. During your consultation, Dr. Broome will discuss all your options and outline his recommendations.  The ultimate goal is to deliver a solution that provides years of service, is comfortable, and looks and functions like a natural tooth.  During your consultation, Dr. Broome can provide options and help to remove worry and confusion. Our goal is to provide a clear path to accomplish your restorative goals. Porcelain crowns are an excellent way to change or improve many characteristics of your teeth. Call our Charlotte office and ask for your private consultation with Dr. Broome and find out if crowns are the best option for you. With improvements in dental technology, we now have access to amazing new material that is beautiful yet incredibly strong. This natural-looking, all-porcelain material does not contain any grey or blue tinted metal and will not change color over time. The material Dr. Broome uses is custom designed for cosmetic smile improvement. Many patients wish to replace an old crown with metal or crowns that are old and discolored with new all-porcelain crowns that match the color of your newly whitened teeth. Here at Charlotte Center for Cosmetic Dentistry, we offer dental crowns for a wide range of functional and cosmetic issues.
Procedure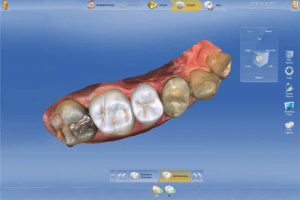 During a single visit at our Charlotte office, Dr. Broome can quickly scan and fabricate a new porcelain crown using our state-of-the-art
digital dental technology
. Thanks to our Sirona Galileos Comfort Plus Digital 3D Cone Beam CT or 3shape Trios scanner, we can create realistic 3D images of your teeth in a matter of seconds and design the crown using our CEREC® system. Dr. Broome can create a custom crown using 3D images, which are then sent to our in-house milling device. In 15 to 30 minutes, the crown will be ready for final adjustments before securing to the tooth. You will leave with a beautiful new crown that is made of state-of-the-art porcelain or ceramic material. Your new crown will function just like a natural tooth and provide years of worry-free service.
Frequently Asked Questions About Dental Crowns
Q: Do I need crowns?
A:
Porcelain crowns are an ideal restoration device for teeth that have been broken or weakened by decay and those with very large fillings. Crowns are used after patients have root canals to protect what is left of the tooth. New all-porcelain crowns are also an excellent option to replace old metal-based or discolored crowns.
Q: What is a crown made of?
A
: At Charlotte Center for Cosmetic Dentistry, we use ceramic or porcelain crowns for a natural look. There are many all-porcelain materials. We evaluate each patient and determine on a case-by-case basis what systems will provide him with the best results.
Q: How long does the treatment take?
A
: Typically, an appointment for a crown will take no more than a single visit at our Charlotte office. During the visit, the tooth will be designed to accept the new crown, which may mean removing tooth decay, fillings, or portions of a damaged tooth.  The tooth will be scanned and a custom design will be sent to our milling device, which will produce a perfect 3D crown that can then be shaped and modified to fit the tooth. Once the crown has been adjusted to fit perfectly, it is secured in place. For more information,
medlineplus.gov
also explains the process of getting a dental crown.
Q: Does oral sedation relieve dental pain associated with crowns?
A
: Oral sedation is just used to help a patient relax. Once you are comfortably sedated and relaxed, Dr. Broome will administer a local anesthetic that numbs the area to be treated and ensures you do not feel any discomfort throughout your crown procedure or other treatment.
Q: Will my new crown be noticeable?
A
: Patients seek out Dr. Broome's expertise especially when they want their new restoration to look perfect. He will ensure that your new crown will match your teeth as closely as possible. He will make sure the shade of the adjacent teeth blends with the new crown. Patients often have trouble telling the difference between crowns Dr. Broome creates and their regular teeth!
Contact Charlotte Center for Cosmetic Dentistry
If you are considering one or more crowns, or if you are seeking a new and improved version of an existing dental crown, please call Charlotte Center for Cosmetic Dentistry to schedule your consultation. We proudly offer the latest in advanced dentistry, such as digital impressions to ensure that our appointments are quick and efficient.