Dental Implants
Many patients don't consider the
cosmetic
aspect of
implant dentistry
. Here at
Charlotte Center for Cosmetic Dentistry
, we know firsthand why careful planning is essential for a beautiful outcome. It is critical that any implant fixture is placed in the correct position and depth. Otherwise, restoring it can lead to aesthetic complications and, in some cases, the implant cannot be restored. That's why Dr. Broome and his team in Charlotte focus on precise implant planning using the latest in digital dentistry and approach every aspect of treatment with the end result in mind. If possible, see
Dr. Broome
before you have any dental implants placed. He can plan from the end result backward and determine the ideal position of the implant(s) needed. This detailed planning can save you time and money. Contact Dr. Broome online today to see if you are a candidate for this
advanced dentistry
procedure!
Read More
What is a Dental Implant?
Dental implants
are the invisible support structure underneath a beautiful implant restoration that is indistinguishable from a natural tooth. We can plan and place dental implants that can replace one tooth or many teeth. Depending on your needs, we can design a plan that restores both form and function for patients who wish to rebuild their smile.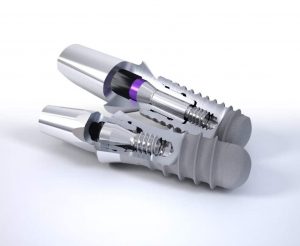 Dental implants are titanium root replacements or fixtures that consist of several parts. One part is the root form and the other part is called an abutment, which connects the root to a crown or other type of restoration. The titanium root replacement is surgically placed in the bone and provides a secure platform on which to build a new smile. A
custom-made dental crown or bridge
can be built on top of this new foundation. Unlike
bridges
, implants do not rely on adjacent teeth for support, and there is no need to grind down any healthy teeth to keep them in place. Because they fill not only the gap between the teeth but also the empty space in the jaw, dental implants help to prevent the bone loss that can often occur after teeth fall out. Also, these fixtures can be taken care of in the same manner as natural teeth. Patients with implants should brush and floss daily and schedule regular visits with Dr. Broome and his team in Charlotte.
Who is a Candidate for Dental Implants?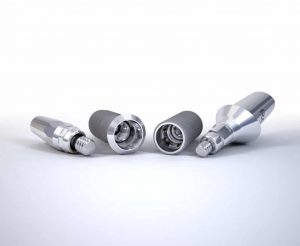 Most patients who have one or more missing teeth are eligible for dental implants. However, it is important for patients to be in good overall health and have enough healthy gum and bone tissue to support an implant. Potential candidates who are smokers, take prescription medications, or suffer from a medical condition such as diabetes must be evaluated to ensure that a dental implant is a safe option. Additionally, adolescent patients must wait until after puberty in order to ensure that their jawbone is no longer growing, which could interfere with successful, long-lasting results. Dental implants are an ideal option for patients who would like to replace a bridge, correct a bite problem, or find a better, permanent solution to their missing teeth than dentures, which can be uncomfortable or limit the types of foods a person can eat. Candidates must commit to a thorough and consistent dental hygiene routine as well because the implant must be cleaned and protected just like natural teeth. Regular dental visits are vital to ensuring the success of a dental implant, as well as the health of an overall smile!
Top Reasons to Choose Implant-Supported Bridges or Dentures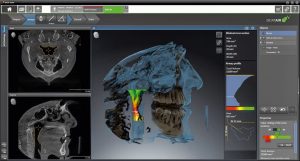 There are so many advantages to dental implants that it is not surprising they have largely replaced other tooth replacement options in most dental practices. These benefits include:
Implants Look and Feel Like Natural Teeth
– A dental implant can be completely customized to fit comfortably and look like a patient's natural teeth, from the size, the shape, and the color of the crown. The implant also eventually fuses with the bone, which means that it becomes securely fixed in place just like the rest of the patient's teeth.
Protects and Strengthens Jawbone
– Losing one or more teeth creates empty space in the gum and bone tissue, which causes the bone to gradually deteriorate and melt away beneath the gums. An implant helps reinforce the bone and even stimulate bone growth, creating a stronger and healthier jaw.
An Easy Solution
– Unlike traditional dentures, which can fall out, interfere with speech, and limit the types of food a patient can eat, adjusting to dental implants is relatively seamless. Patients can return to their everyday life without worrying about keeping everything secure in their mouth when talking or eating. Implants are fused into place and function just like natural teeth.
A Strong Track Record
– The success of other forms of tooth replacements, such as dentures or bridges, can be unpredictable because removable appliances can be more easily damaged or cause damage to the surrounding teeth. Bridges, for example, typically need to be replaced after seven to 10 years. Implants have a reliable track record of successful outcomes and rarely require adjustments or replacement once integrated into the bone. The good news is Dentures can be adapted to work with implants as well. Implants can anchor and support dentures as well as single tooth replacements like crowns. 
ncbi.nlm.nih.gov
has more information on the structural integrity of dental implants.
Frequently Asked Questions
Q: Is the procedure painful?
A
: No. The dental implant procedure is surgical, so we use local anesthesia to numb the area just like a crown or any other procedure that may cause sensitivity or discomfort. Our office is also custom designed to create a soothing, relaxing environment, more like a spa, to ensure that any procedures are in no way intimidating. Dr. Broome may prescribe a sedative prior to the procedure as well as pain medication for any discomfort that occurs after surgery, though most patients indicate that Ibuprofen is more than adequate to resolve any soreness after the procedure. Most patients feel completely comfortable returning to work the very next day.
Q: Am I a candidate?
A
: If you are healthy enough to have a tooth extracted, you're probably healthy enough to have an implant! In general, good health and an adequate bone in your jaw are the key components to qualify for a dental implant. Basically, anyone missing a tooth or many teeth due to injury, disease or decay may be a candidate for implants.
Q: How long does the implant process take?
A
: The actual implant placement takes less than 30 minutes. The process can be completed in one visit, or it may take several visits to our Charlotte office. It depends on your unique situation and what is required to provide the very best result. Implant placement is a surgical procedure and requires planning prior to placement. We utilize 3D Cone Beam imaging technology to allow us to see in 3D the area in which we plan to place an implant root replacement. We also utilize the CEREC Omnicam to scan your mouth and digitally plan a new restoration that custom fits your needs. We have the ability to fabricate surgical guides in our office that allow for precision placement based on our digital plan. Based on your bone density and the implant stability we can plan on how long we must wait until the implant is ready to support a new dental restoration. Consult Dr. Broome and his team for more specifics on dental implants!
Q: Will my new tooth/teeth look natural?
A
: Yes! If planned correctly and placed in the correct position. We can build a new tooth or teeth on dental implants that defy detection and look and feel natural, just like your own teeth!
Q: I already have dentures, can I get dental implants? 
A
: Yes! We can design a plan to support and anchor your denture with implants. Typically we use at least 4 implants per arch to provide a secure and stable foundation for a denture. We can also create a very special denture that is called a Prettau Zirconia Bridge that can replace an entire arch. This material replaces lost teeth and gum tissue and has amazing aesthetics. Check out our All-on-4 menu page!
Contact Charlotte Dental Implant Experts Today!
Your dental health is important! At Charlotte Center for Cosmetic Dentistry, implants are a great option for patients who want to replace one or more missing teeth. If you are interested in finding out more, make sure to ask Dr. Broome during your next visit to our Charlotte office! We offer the most advanced methods and effective dental services, such as digital x-rays, digital impressions, and digital planning, to ensure each appointment is as efficient as possible.
Contact us today
to learn more information about dental implants! Next, read about
root canals
.