Digital Dentistry
In recent years, traditional dental procedures have been replaced with cutting-edge digital methods and state-of-the-art equipment. Lengthy appointments, multiple visits, uncomfortable restorations, and poor results are a thing of the past thanks to extraordinary advancements in digital dentistry.
Charlotte Center for Cosmetic Dentistry
is proud to offer the latest and most effective
cosmetic dental services
to our patients. In the relaxing,
spa-like atmosphere
of our Charlotte office, patients can receive state-of-the-art diagnostic services and convenient
digital dental solutions
in just a single visit. To learn more about our services and how our digital technology can make your appointment quick and comfortable, please contact us today.
Read More
Our In-Office Digital Technology
The digital dental services now available at Charlotte Center for Cosmetic Dentistry include, but are not limited to, the following: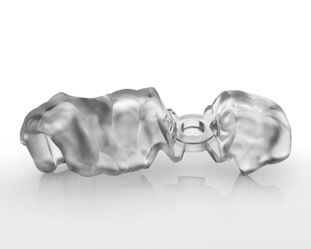 CEREC
- The Chairside Economical Restoration of Esthetic Ceramic (CEREC) is a revolutionary digital imaging device that uses CAD/CAM (computer-aided design and computer-aided manufacture) technology to create crowns, veneers, inlays, onlays, bridges, implant restorations, and custom implant surgical guides in-our Charlotte, NC office. This service provides Dr. Broome and his staff the ability to perform digital impressions, design, fabrications, customization, and delivery of dental restorations in one to two hours instead of three to four weeks.
Digital Impressions
- A precision optical scanner is used to acquire live video of the structures in the mouth. This video is used to create a precise 3D natural color model in seconds. There is no need for uncomfortable impression materials or powders that often make patients feel claustrophobic or uneasy. The realistic 3D model creates a much more accurate and comprehensive design platform than traditional methods.
Single Visit Restorations
- The CEREC System and Practice Lab MCXL milling machine are an integrated design system that allows us the ability to capture, plan and create custom ceramic restorations with unbelievable speed. We can now prep, image, design, and create a new all-ceramic restorations in about one hour at our Charlotte office. Busy patients love the convenience and appreciate not having to return to the office for a second visit or having to be numb for a second time.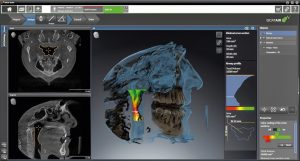 Sleep Apnea Screening -
SICAT Air is a cutting-edge device that analyzes the upper airway volume to be visualized and calculated. This provides an image of obstructions or detects possible risk factors for sleep apnea with 3D imaging. In our Charlotte office, Dr. Broome and his staff can now conduct airway evaluation quickly and efficiently and refer patients to a qualified sleep physician for further diagnosis and treatment. These services help our patients stay informed and offer tremendous value for their overall health.
Sleep Apnea Oral Appliances -
For patients undergoing treatment for sleep apnea, our office can fabricate a custom oral appliance that positions the mandible forward and keeps the airway open so airflow can be increased and breathing efficiency is improved. Oral appliance therapy (OAT) can be used in conjunction with continuous positive airway pressure (CPAP) device typically prescribed for sleep apnea treatment. Over 60% of patients with a CPAP do not use their CPAP. OAT a solution for those that travel or find CPAP devices difficult to use. Many patients find OAT is a less obtrusive way to improve air-flow and reduce their apnea episodes.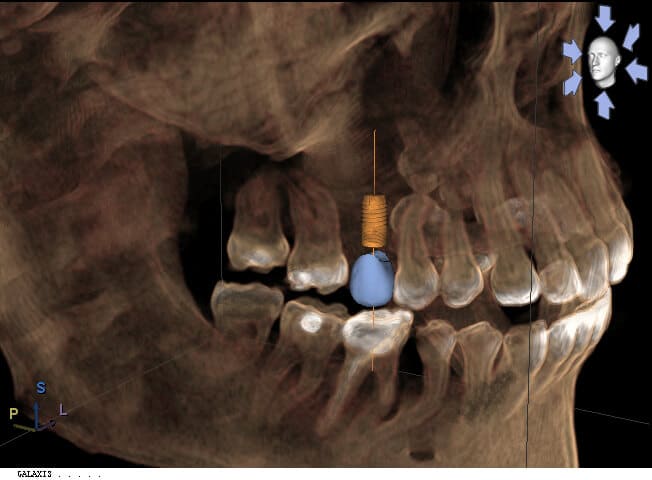 3D Planning  - SIDEXIS 4
/ Galaxis / SIMPLANT -
Digital imaging utilizes powerful software that allows our doctors to plan and communicate with other specialist is a more precise manner.
SIDEXIS 4
-
Used to acquire, manage, manipulate, and analyze 2D and 3D images captured by the Galileos system. This intuitive suite is a powerful data collection hub for our in-office 3D imaging.
Galaxis
 - A custom software designed to integrate the CEREC chair side information with the Galileos information. This allows a true digital workflow to occur. Finally, we can capture information digitally in the mouth and utilize Galaxis to link that with our
Galileos 3D extra-oral imaging
. This workflow allows us to plan from the final restoration backwards to determine proper implant placement.
SIMPLANT -
In an open platform that is synonymous with implant planning in dentistry, 3D data is imported and planning of implant placement and implant sizing can be completed within the software. Surgical guides can be ordered as well. All information can be utilized by any third party, so Simplant makes it easy to share information.
Dexis Platinum -
Our daily practice digital x-ray imaging system that we have had since 2004. This system has been upgraded over the years and allows instant access to chair side information. Incorporating these leading-edge programs into our services cuts down on the time and cost of each and every visit, no matter what treatment our patients need.
Digital Bite Analysis
– Traditional methods for checking a patients bite lack a certain level of precision and provided limited information about bite force and timing of contact between the top and bottom teeth. The
T-scan digital bite analysis system
is a diagnostic device that quickly measures and records bite force, timing, and location of contact with a thin Mylar grid load-cell. Patients bite on this sensor and an array of information is gathered, recorded, and available for playback. This technology allows us the ability to detect unseen bite issues and fine tune the bite adjustment process. To learn more about digital dentistry, visit
digital-dentistry.org
Learn More about Digital Dentistry in Charlotte, NC
Whether you are looking for a general dentist, for digital dentistry, or the ultimate in aesthetic we at the Charlotte Center for Cosmetic Dentistry invite you to visit with us and see why were different by design!
The Charlotte Center for Cosmetic Dentistry team
has extensive experience and is constantly training and acquiring new abilities so they can provide the latest techniques to our patients in our spa-like office. To learn more about the digital services at the Charlotte Center for Cosmetic Dentistry, please 
contact us today
. Next, read about
sedation dentistry
.