Total Health Dentistry
Our
dental health and whole body health
are intrinsically connected. Just as certain medical concerns can affect the health of your smile, your teeth and gums can have an impact on your physical well being. For example, even mild forms of gum disease, such as gingivitis, have been linked to a wide range of health conditions, including heart disease, diabetes, osteoporosis, Alzheimer's disease, and even low birth weight.
Read More
As an inflammatory disease, gingivitis, gum disease, and periodontitis can make the body more susceptible to dangerous illnesses by weakening the immune system and various organs. Harmful oral bacteria can enter the bloodstream as a result of gum inflammation, where it can travel to other areas of the body, such as the heart and brain. This is why we suggest a solid home care routine be a part of your overall plan to obtain Total Health.

We now know that "home care," which includes brushing and flossing, is just one part of a comprehensive approach to optimal health. Every patient we see is unique. That means your unique genetic makeup can play a big role in how your body responds to a variety of risk factors such as high-stress levels, low pH drinks and foods, immune system response to high bacteria levels, and current inflammation levels.  This is precisely why we perform a thorough exam so we can make an accurate diagnosis of your current health. Once we know your unique situation, we can then develop a custom plan to help you reach Optimal Health. At
Charlotte Center for Cosmetic Dentistry
, we take your total health into account when providing the care you need for a bright, beautiful smile, from customized cleanings to diagnostic x-rays and oral bacteria DNA testing. At our center, you can be sure to have the most comprehensive and
advanced dental care
available.
The Benefits of Periodontal Therapy
Periodontal therapy
has involved various types of cleanings for decades and most patients are familiar with the terms "regular cleaning" and "deep cleaning." In the past, it was common to just
treat the symptoms
. Today we know the root cause is a bacterial infection and the symptoms we see are the effects of the body's immune response to very high levels of "aggressive" bacteria.
Periodontal disease
is a silent and painless disease that affects millions of people. The good news is treatment is available and it's very effective when a targeted approach is taken. However, if left untreated treatment, the disease ultimately causes bone and tooth loss. Research has conclusively shown the oral-systemic link and how oral bacteria contribute to inflammation throughout the body. Bacteria in the mouth migrate to other areas of the body and contribute to inflammation found in diseases such as diabetes, pulmonary disease, cardiovascular disease, arthritis, Alzheimer's, and a long list of other disorders. At
Charlotte Center for Cosmetic Dentistry
, the vast majority of our patients are seeking a different level of care when they visit our practice. They are interested in what we call "optimal care." Our approach is very different than other offices when it comes to many areas of treatment. Periodontal therapy is no different. We utilize bacterial DNA analysis to determine what bacteria are in your mouth and at what levels they occur. Every patient will receive a thorough exam. We then inform them of their current state of oral health with photos and any diagnostic imaging we obtain and suggest therapy and treatment that move them toward their optimal health.
Find Total Health Through Dentistry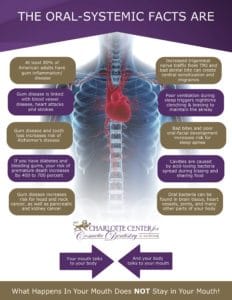 True optimal health begins with a "total health" approach. It just makes sense that the mouth is connected to the body, yet people often don't take infections in and around teeth with the same level of concern as in other areas of the body. Advanced periodontal therapy was designed to create specific protocols that take the guesswork and frustration out of periodontal therapy. We have found this approach reinforces our belief that we don't just treat teeth, we look for ways to help our patients work toward whole body health. Oral health is our area of expertise and we know that a wide range of systemic diseases manifests themselves in the oral environment. Periodontal issues begin with mild inflammation of the gum tissue surrounding the teeth and progress to more severe levels. This inflammation is caused by the high levels of bacteria in the gum tissue surrounding teeth. Today, we know that specific bacteria at high levels provoke that inflammatory response seen in periodontal disease. What research has recently uncovered is that the same bacteria that cause gum inflammation also are found inside the vessel walls of patients with cardiovascular disease. The bacteria have been found living in and around the atherosclerotic plaque inside blood vessels. Bacteria in your mouth gain entry to the rest of your body via the blood. If your mouth has areas that are bleeding or unhealthy, the bacteria are already circulating throughout your body. Oral infections do not stay isolated in the mouth.
cdc.gov
talks more about oral health and periodontal issues. Advanced periodontal therapy is centered on individualized therapy that customizes the treatment suggested to your specific needs and health situation. We have adopted the periodontal therapy protocols, which uses a scientifically validated system of testing, medications, and specific home care routines to target and treat the cause of the periodontal infection. This approach offers a total-health approach to treatment and offers patients a non-surgical option.
Find Total Dentistry Care Today
To learn more about how our total health dentistry and focus on the oral-systemic link can help you find the complete health that you need,
contact us
today. Dr. Patrick Broome and the team at Charlotte Center for Cosmetic Dentistry can provide you with the complete care that you deserve. Next, read about
advanced periodontal therapy
.