Giving Back
The
Charlotte Center for Cosmetic Dentistry
is located in the South Park District and offers patients a variety of cosmetic dentistry treatments. Founded by Dr. Broome, our center offers a unique, spa-like experience for patients who seek effective but gentle dentistry. Our patients have given so much to us over the years. As such, it is our turn to give back to you. We care for the patient, and if you believe in any of the causes we support, you can lend your support by getting in touch today. Don't hesitate to contact us today to learn more about our practice and read about our involvement in the following charities you may wish to support.
Read More
Missions of Mercy
North Carolina Missions of Mercy (NCMOM)
 is focused on giving dental treatments to those who do not have enough resources to have a sufficient access to oral care. Since 2003, Missions of Mercy has received special funding for dental equipment, such as dental chairs, digital x-ray machines, sterilization, and all sorts of instrumentation and supplies. NCMOM has several volunteers including dentists, dental assistants, dental hygienists, laboratory technicians, and many professional volunteers from around the state. By donating our resources to this organization, citizens of North Carolina who are in financial need are able to have the care they deserve. This is why the Charlotte Center for Cosmetic Dentistry is committed to giving back through Missions of Mercy.
Smiles For Life Campaign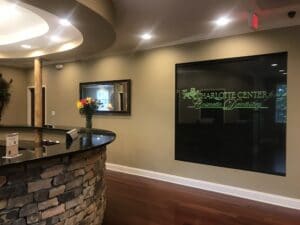 Smiles for Life
is an organization that donates half of their proceeds to local children's proceeds in North Carolina. Every year, from March through June, the Charlotte Center for Cosmetic Dentistry raises money for Smiles For Life. Smiles For Life then uses their resources to provide dental services to the community and 100% of the proceeds go to charities for children! Specifically, children who are seriously ill, underprivileged, and/or disabled are the focus of Smiles For Life. The organization has raised more than $33 million since its founding in 1998, which is distributed to children around the world.
Give Back a Smile
The American Academy of Cosmetic Dentistry Charitable Foundation has created a program called
Give Back a Smile
for those who have suffered serious dental injuries. People who the program focuses on are those who have gone through traumatic instances in their lives. Men and women who have dealt with domestic and sexual violence are welcomed with open arms at Give Back a Smile for restoring dental injuries obtained to the front eight teeth. Any and all people who were involved in an abusive relationship are welcome, whether it was with a former spouse, a fiancé, or an intimate partner. Everyone is treated with respect and open arms. Use
this link
to register for this program.
Why We Do This
Our heart breaks for people who had their lives altered by domestic violence and financial need. The dentists at the Charlotte Center for Cosmetic Dentistry are committed to helping those people feel confident again, even if they thought they never could. Making people confident in the way they look and keeping them healthy for years to come are the greatest rewards a dentist could ask for. To learn more about these charities and the services provided by the Charlotte Center for Cosmetic Dentistry,
contact us online
today. Next, learn about the
Smiles for Life
charity that we support.