Porcelain Veneers
Porcelain veneers and traditional crowns are very different but most people think they are the same. Veneers are custom-made, porcelain shells that are as thin as a contact lens. They are a powerful tool that we use to rebuild and resurface teeth in a minimally invasive manner.  Veneers require adhesive bonding to chemically link or "bond" them to tooth structure. Preservation of maximum tooth structure and in particular Enamel creates the very best bond surface for super thin veneers.
Many people fear having their teeth "cut down" and are surprised to learn that porcelain veneers are very different from traditional crowns.
Veneers perform best when maximum natural tooth structure is preserved because they must be adhesively bonded to enamel for the most predictable results. Traditional crowns require significant tooth structure removal to obtain strength and are held in place by friction provided by dental cement instead of bonding.
Another concern comment we hear is, "I don't want my teeth to look thick and bulky." This is where the artistic skills and experience of Dr. Broome comes to the forefront. The before and after cases on our website show real patients and real results that are natural, fresh, and focus on enhancing the patient's overall facial aesthetics. That's why so many people from around the country travel to Charlotte and trust Dr. Broome with their smile makeover. Existing patients also pay it forward and allow him to share their results in an effort to help others see real results.
Veneers can transform an under-performing to average smile into a super-star smile in just a few weeks. Patients in our Charlotte, NC office experience our predictable and time-tested workflow that provides raving fans day after day. It's an effective way to reverse years of damage or correct a collection of single tooth patchwork dentistry that many people accumulate over the years.
How Can I Get Started? What Are My Options?
Many patients now elect to utilize our virtual consult option and submit a couple of photos that allows Dr. Broome to see your concerns and discuss possible options in a personalized video just for you. For those who are ready to get started or would like to know exactly what options they can consider, then the New Patient Experience (NPE) with Dr. Broome and his Treatment Coordinator is the best option. The New Patient Experience is how we get started with all of our new patients, and you should expect a fun, informative, and relaxing visit delivered in a non-invasive manner. Our digital technology and imaging enable us to simulate treatment outcome results and provide virtual treatment planning. During your visit, Dr. Broome will listen and ask questions so he can learn about what matters most to you. Based on your desired end goal he will outline options and together you and Dr. Broome can decide what feels right to you. Common options are:
Invisalign® to correct mild to severe alignment issues
Dr. Broome typically uses one or a combination of these options to design your smile design projects that result in a smile custom designed just for you.
Read more about porcelain veneer treatments for your teeth at
ncbi.nlm.nih.gov
.
Year after year social science studies show that virtually all Americans (99%) believe a smile is a powerful social asset. 96% of adults believe a great smile makes a person more appealing to members of the opposite sex. Three-quarters (74%) of adults feel an unattractive smile negatively impacts a person's career success.
Here are typical questions and top responses:
"What is the first thing you notice in a person's smile?"
Whiteness & color of teeth
Spaces between teeth
Missing teeth
Cleanliness of the smile
Alignment of teeth
"What makes a smile unattractive?"
Discolored, yellow, or stained teeth
Missing teeth
Gaps/spaces between teeth
Crooked teeth/misaligned teeth
Visible cavities/broken teeth
"What would you most like to improve about your smile?"
Make it Whiter & Brighter
That's where porcelain veneers can come in. Porcelain veneers are one of the tools we use to resurface, recreate, and redesign smiles. If you have imperfections in your smile such as chips, cracks, spaces, or aging dentistry, then porcelain veneers may be an excellent option to help you reclaim a smile you've lost or finally feel what it's like to love your smile.
Contact Dr. Patrick Broomein Charlotte, NC for more information about his extraordinary results in cosmetic dentistry.
Frequently Asked Questions about Veneers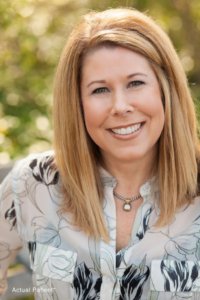 Q: Will my porcelain veneers look like normal/natural teeth?
A
: If you have Dr. Broome design them then, yes! Every smile Dr. Broome creates is designed with the end result in mind. He listens to what you want to change or improve and adds in his expertise to create a one-of-a-kind smile for every patient he works with. Using his proprietary facial design system, he creates works of art that you can wear and enjoy every day. At Charlotte Center for Cosmetic Dentistry, it's common to have patients tell us that people think they just whiten their teeth and have no idea they are veneers. It's easy to spot average dentistry, but it's often impossible to detect the work of an artist that can mimic the natural shape and contour you find in real teeth. Our goal is to create natural harmonious smiles, but we realize every person brings a different personality to our practice, so if you are outgoing and want the world to know you had your smile enhanced, then we can also design one that fits your goals. Every case is a customized work of art design to fit your smile goals.
Q: How long will my veneers last?
A
: Porcelain veneers are just as strong as natural teeth, so when planned and designed properly, they are extremely durable! With proper home care and routine check-ups to keep you in optimal health, you can expect a reasonable service life of 10 to 20 years. Maintaining excellent home care and daily brushing and flossing is critical since your natural teeth are still susceptible to decay. During your maintenance visits, Dr. Broome and his team will check each tooth and can monitor your health between visits. With our ultra-modern digital technology, we can monitor and detect changes such as tooth movement, wear from grinding, tooth surface damage, and other changes that may occur between visits. This allows potential issues to be identified quickly and brought to your attention before the issues progress. Dr. Broome has many local patients as well as patients that travel from great distances (out of state and outside of the USA) who return to visit with him at least once per year so he can check the health of their cosmetic investment in our Charlotte cosmetic dentistry office.
Q: Do Veneers hurt or cause discomfort?
A: If designed properly, no. The process of designing your smile for veneers should not be painful. Usually, teeth require minimal or no tooth structure removal, and in some cases, the procedure can even be completed without anesthetic. Our Charlotte office also provides spa-like amenities, such as noise-canceling BOSE headphones, chenille blankets, memory foam pillows, and massage chairs, to help create a calm and relaxing experience. Dr. Broome custom designs each smile, so each one is a unique work of art. Patients trust Dr. Broome because of his years of experience delivering stunning results for some of the most demanding patients. For those who can afford to make a mistake with their smile, they focus on the results first and foremost. Average dentistry can be found in every corner in America. If you have ever wondered why people travel from all over the world to Charlotte, NC to see Dr. Broome, the answer is simple, the results he obtains on a routine basis are stunning.
Q: Is oral sedation expensive?
A
: No! Dr. Broome includes 
oral sedation
in all of his cases for patients undergoing cosmetic treatments at the Charlotte Center for Cosmetic Dentistry. IV sedation and general sedation options can also be made available.
Porcelain Veneers Patient Testimonials
Contact Charlotte Center for Cosmetic Dentistry
Your smile is one of the first things people notice about you, and Dr. Broome believes that every patient should be able to achieve the smile of his or her dreams. If you are interested in improving your smile with porcelain veneers during your next visit to Charlotte Center for Cosmetic Dentistry, simply ask. We are conveniently located next to SouthPark Mall, and we are always ready for your next visit. We use only the most advanced dental techniques and technology, such as laser dentistry and virtual digital impressions to ensure a quick, efficient cosmetic dentistry visit. You can also contact us for more information about this quick and natural-looking procedure.