Dental Inlays / Onlays
Do you have old or damaged silver fillings? Perhaps you're missing a portion of your tooth? Inlays and onlays could be a great option for you! They are treatments we use when the damage is too large for a tooth-colored filling yet not large enough for a
dental crown
. Dental inlays and onlays are small porcelain pieces that fit inside the tooth like a puzzle piece to replace your damaged or missing tooth structure. Here at
Charlotte Center for Cosmetic Dentistry
, we utilize these restorations to preserve healthy tooth structure. 
Inlays and onlays
are typically used to replace
large silver fillings
, and they are much stronger than resin fillings and more conservative than full crowns.  Porcelain inlays/onlays are a fantastic way to strengthen a tooth, restore its shape and prevent future damage!
Read More
Contact Dr. Broome today for more information and to see if inlays or onlays are the right dental treatment for you! We utilize
advanced dentistry treatments
 to ensure your visit is as quick and comfortable as it is effective. "A smile is the universal welcome." - Max Eastman
What Are Inlays/Onlays?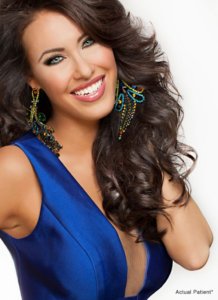 Inlays and onlays are often referred to as partial crowns, as they involve using the existing tooth as a base and fitting the porcelain piece into the tooth.
medlineplus.gov
can give you a better idea about how dental crowns work. This is done to strengthen the tooth, restore its altered or damaged shape and prevent further damage.  An inlay is done when there is no damage to the cusps of the tooth and the inlay can be placed right on the tooth.  An onlay is used when damage is more severe.  Onlays are used to fill a tooth in which the damage includes the surface structure and one or more cusps. They fit onto your tooth to fill in missing space and provide a full natural shape that a typical filling may not be able to accomplish.
The Inlay/Onlay Treatment Process in Charlotte
After a consultation with an
experienced cosmetic dentist
like Dr. Broome, if an inlay or onlay is recommended for your specific dental needs, your tooth will be designed to accept a custom-made porcelain piece. On your next visit, the inlay or onlay will be bonded, and you will leave our office with a comfortable and attractive restoration that blends seamlessly with your natural tooth.
Frequently Asked Questions
Q: What is the difference between an inlay and an onlay?
A
: A dental inlay is typically smaller than an onlay. Inlays are used to fill in areas within the tooth's cusps.  A dental onlay is used to fill in a tooth when the damage includes the surface structure and one or more cusps.
Q: Who receives inlays/onlays?
A
:  If you have cavities, old silver fillings that need replacement or damaged teeth, you may be a candidate for inlays/onlays. An experienced dentist like Dr. Broome will be able to let you know if inlays/onlays are right for you. In some cases, when damage is more severe, a dental crown may be a better option.
Q: Why porcelain inlays/onlays?
A
: Porcelain inlays/onlays fit in your tooth to match the color and keep your smile consistent and natural-looking.  Porcelain is also durable and helps protect damaged teeth to prevent future dental work.
Q: Is the dental inlay/onlay procedure painful?
A
: No! Although you may experience temporary, minor hot and cold sensation in the affected area after treatment, the placement itself is generally painless. And if you have minor (or intense!) dental anxiety, we at Charlotte Center for Cosmetic Dentistry have many methods for ensuring you maximum comfort during your visit. Our office is custom designed to feel more like a luxurious spa retreat than a typical dental office. You can relax in a massage chair prior to your appointment and receive a complimentary paraffin hand treatment. Our private suites offer individually controlled satellite TVs, as well as memory foam pillows and chenille blankets. If pain is a concern, we also offer sedation treatment at no extra cost.
Q: How long do inlays/onlays last?
A
: With proper dental hygiene and
regular visits
to your expert dentist office, inlays and onlays should last for decades.
Contact Charlotte Center for Cosmetic Dentistry 
Your dental health is a top priority, and at Charlotte Center for Cosmetic Dentistry, we believe inlays or onlays are a great way to improve broken or damaged teeth while preserving natural tooth structure and preventing future breakage. If you are interested in the possibility of receiving an inlay or an onlay, contact our dental experts today! Next, read about
MI-Paste
.