Digital Impressions
Dental impressions
are often a necessary part of a dental appointment in Charlotte. Whether diagnosing a dental issue, creating a treatment plan, or fabricating a crown, impressions serve a number of vital roles in dentistry. However, the process for obtaining a clear, physical imprint or reproduction of a patient's teeth and gums has improved drastically in just the last few years thanks to
digital dentistry
technology. Say goodbye to uncomfortable dental trays, lengthy appointments, and repeat visits!
Read More
At Charlotte Center for Cosmetic Dentistry, we are proud to offer the most cutting-edge
dental services
available, including the convenience and accuracy of digital impressions using the revolutionary CEREC system and Sirona Connect. To receive the top quality dental care you need in the comfort and luxury of our spa-like office, contact our office today!
What is the CEREC® System?
With the convenience of just one machine in our office, Dr. Patrick Broome and his staff can perform digital impressions, restorations, abutments, and other orthodontic services all within the same day. The Chairside Economical Restoration of Esthetic Ceramic (CEREC) is an infrared imaging, CAD/CAM (computer-aided design and computer-aided manufacture), and milling machine that includes the following state-of-the-art features: The CEREC Omnicam scanner allows us to create precise 3D, natural color images in a matter of minutes. There is no need for uncomfortable impression materials or powders that often make patients feel claustrophobic or uneasy. We simply use the wand-like scanner to take a series of images or even video of the teeth and gums, which are displayed on a chairside monitor. Dr. Broome can then review the digital impressions in real-time with the patient, discussing potential issues and treatment options. The realistic 3D model of digital impressions allows us to create a much more accurate and comprehensive treatment plan that we can then carry out during just one appointment. In fact, most scans take no more than two or three minutes!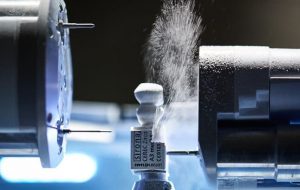 CEREC Ortho Software and Sirona® Connect make it easier than ever to create digital impressions for Invisalign® devices. The speed and accuracy of our digital scans combined with the ability to seamlessly transfer digital data to our external laboratory service providers mean that our patients will get a faster start to a straighter smile. The Sirona Connect is an online platform that allows us to transfer digital impressions immediately without having to wait on shipping physical models. With digital scans, we can quickly create updated Invisalign aligners at each stage of the tooth straightening process. The custom aligners are typically only worn for 1-2 weeks before a new aligner is manufactured for faster teeth movement and a shorter treatment time. The CEREC CAD and milling machine also allows us to make clear, accurate proposals that are based strictly on the patients' dental anatomy, resulting in a much faster turnaround between scanning and fabricating a tooth restoration, such as a dental crown, inlay and onlay, or porcelain veneer, and even implant abutments and orthodontic devices. The custom ceramic restorative device can make a ceramic restoration within 10 to 20 minutes that can then be placed during the same appointment.
What are the Benefits of Digital Impressions?
Compared to the latest digital impression systems, traditional methods of creating a physical impression with trays and rubbery polyether or polyvinyl siloxane materials are simply more prone to errors and complications. In the event of a mistake or inaccuracy, it would be necessary to take another impression and start the process all over again. The digital impressions that we are able to create at Charlotte Center for Cosmetic Dentistry provide the following advantages for our patients and staff:
Faster turnaround
Scans take only three to five minutes
Better accuracy
Fewer remakes
Improved patient satisfaction
Eliminates discomfort and anxiety of traditional impressions
Produces better fitting restorations and devices
Digital data can be stored and easily transferred to other offices
More eco-friendly as there is less plastic and material waste
One of the most frustrating aspects of traditional impression-taking is the number of steps it takes to reach a precise and comfortable restoration or orthodontic device. Working with an imprint and cast of a patient's teeth in order to make dentures, crowns, or other devices requires a lot of trial and error, resulting in frequent appointments. In many cases, patients would have to wait for restorations to be fabricated and shipped from a laboratory, making the process of achieving a beautiful, healthy smile much more time intensive than it has to be. Fortunately, that process is more or less a thing of the past with digital impressions! To learn more about digital impressions, please visit
pubmed.gov
.
Schedule a Dental Impressions Appointment Today
Whether you are due for a cleaning or you're considering dental crowns or restorations, you will find the care and service you need for strong, healthy, beautiful teeth at Charlotte Center for Cosmetic Dentistry. Dr. Broome and his staff have extensive experience and training, and can provide the treatment our patients need in the comfort of our spa-like office. To learn more about the digital impression services at the Charlotte Center for Cosmetic Dentistry, please contact our cosmetic dentistry specialists today!