Sedation Dentistry
Is a dental anxiety or phobia preventing you from having your desired or needed dental care? Maybe you dream about a more beautiful smile but just can't get over a bad dentist office experience or the fear of anticipated pain. We also offer
teeth whitening dentist charlotte.
Sedation dentistry
(also known as sleep dentistry) has provided a solution to millions of patients just like you and is a safe, effective, and it doesn't cost any more to achieve comfort and relaxation during dental procedures. At
Charlotte Center for Cosmetic Dentistry
, we offer complimentary paraffin hand treatments, noise-cancelling BOSE headphones, massage chairs, and individually controlled televisions for
a soothing, spa-like experience
.
Read More
Is Sedation Dentistry Right for You?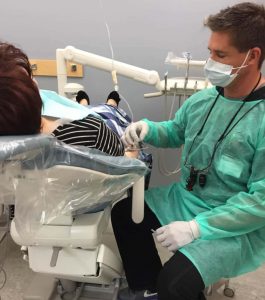 Every day, dental anxiety prevents patients from moving forward with
dental services
 that they want or need. The good news is dental anxiety need not be a barrier any longer! We remove the anxiety obstacle and allow patients to return to the dental office worry free. The wonderful dream of being relaxed for your dental visit can now be a reality. Don't let fear, anxiety, worry or regret keep you from the smile of your dreams! North Carolina prohibits any dentist who is not IV-certified from using more than one dose of one oral sedation medication. This is a huge change that removes oral sedation as an ability of many dental offices. Luckily,
Dr. Broome
is IV-certified and can offer multi-dose oral sedation as well as IV sedation options to his patients! Sleep dentistry utilizes one or more pills that the patient takes prior to their visit. Dr. Broome will evaluate each patient prior to any visit and custom design the appropriate amount and mixture. Your skilled dentist utilizes a version of
sedation dentistry that reduces anxiety
and worry without significantly altering the consciousness of the patient. You are relaxed, calm, and totally in control and capable of answering questions and responding to instructions during the procedure. Additionally, using the most advanced
dental technology
, such as digital x-rays and impressions, as well as laser dentistry, every visit is as fast and efficient as possible. You just will not remember much of your time in Dr. Broome's office.
mouthhealthy.org
Frequently Asked Questions
Q: What are some benefits of oral sedation?
A
: Oral sedation helps patients remain comfortable and relaxed during a wide range of general and cosmetic dental treatments. Some of the benefits include a reduction in the amount of local anesthesia needed, dramatically quicker procedure time, and little to no discomfort the day after your visit. Almost all patients comment on sleeping great and waking up the next day feeling refreshed. Another benefit is remembering little to nothing about the visit, except for
having a gentle dental experience
.
Q: How long do the effects of oral sedation last?
A
: Typically, the duration is four to eight hours. Dr. Broome will determine the
best sedation medication
for each patient and create a custom plan. Each person is different so it's important to design a custom plan that fits their needs best based on the specific requirements of the procedure to be undertaken.
Q: Is oral sedation safe?
A
: Yes!
Oral sedation is a very safe
option. Before your procedure, Dr. Broome will meet with you to discuss your health status and review the medications you are currently taking. Oral sedatives can be utilized in addition to most medications without alteration of your regimen or routine.
Q: Does oral sedation relieve dental pain?
A
: Oral sedation is just used to help you relax. Once you are relaxed and comfortable, Dr. Broome will administer a local anesthetic in the area to be treated to ensure you feel no pain or discomfort throughout your visit.
Q: Is oral sedation expensive?
A
: No! Dr. Broome offers
complimentary oral sedatives for patients
undergoing cosmetic treatments at the Charlotte Center for Cosmetic Dentistry. We believe oral sedation can help many overcome their fear and do not want the extra fee to be a barrier.
Contact Charlotte Center for Cosmetic Dentistry
Your smile is the first thing people notice about you, and
Dr. Broome
invites you to visit with him and discuss how he can help you obtain the smile that's right for you! If you are interested in sedation dentistry, visit Charlotte Center for Cosmetic Dentistry and ask about it during your consultation. You can also
contact us online
 for more information about this safe, effective solution to dental anxiety. Next, read about
sleep apnea
.