Teeth Whitening
Improving your smile can increase your self-confidence! Whether you want to look extra special for an upcoming wedding or graduation or simply want your teeth to sparkle, our
teeth whitening
treatment with
Dr. Broome
in Charlotte, NC can help you achieve a bright white smile.
Discoloration
is one of the most common and easily treatable cosmetic dental problems. You can whiten your teeth if they have become stained with coffee, wine or tobacco, or if your smile is simply less bright than you prefer, a teeth whitening procedure can help your teeth look sparkling clean. If you're feeling insecure about your smile, take a look at the various
cosmetic dentistry services
 options at Dr. Broome's
Charlotte Center for Cosmetic Dentistry
and contact us for a consultation today!
Read More
Types of Teeth Whitening Procedures Available in Charlotte

Charlotte Dentist Dr. Broome
understands that no two patients are alike, which is why we provide various types of advanced teeth whitening options. With an evaluation, we can make sure you're a good candidate for whitening, determine which type of smile brightening method would be the most appropriate, and get you the best results for a brighter, healthier smile. At Charlotte Center for Cosmetic Dentistry, we offer the proven and popular Zoom!, Ultradent Boost!, DayWhite, NiteWhite, MI Paste, and Opalescence systems to treat patients with different levels of tooth sensitivity and treatment expectations. Using the latest in dental treatments and technology, such as virtual digital impressions and digital x-rays, all of our procedures can be completed within an hour and provide successful results for patients with moderate to severe cases of stained teeth.
Zoom!® Teeth Whitening

Zoom!® Teeth Whitening is our most popular whitening method as it's simple, safe and effective! The process takes approximately an hour and begins with protecting your lips and gums, before the special Zoom!®, the gel is gently brushed onto the surface of each tooth. You can then relax in one of our comfortable chairs while a specialized light is shined on the teeth for 15-minute increments. This process is repeated three to four times and you will leave our office with a whiter smile! In as little as an hour, you'll leave our Charlotte office feeling more striking and confident than ever.
Ultradent Boost!
Ultradent Boost is an innovative teeth whitening treatment that uses chemically-activated power whitening gel and provides brighter, whiter teeth without the need for light activation. Not only is Ultradent Boost effective for whitening teeth, but patients can get results in just 40 minutes in the dental chair! Contact us for
charlotte sedation dentistry
&
sedation dentistry charlotte
treatment.
DayWhite
DayWhite is a cutting-edge alternative that allows patients to whiten their teeth in just 15 minutes a day! DayWhite allows for dramatic results with the use of dental trays that are used for twice a day for a period of two weeks resulting in a restored smile with minimal time commitment.
NiteWhite
For patients looking for treatments that they can do while they sleep, look no further than NiteWhite. NiteWhite offers dramatic results for a whiter smile with convenient whitening trays that patients can use overnight or during the day as their schedule allows.
MI Paste®
MI Paste
is an easy-to-use topical paste that can be used like toothpaste or with convenient trays to help maintain a bright, white smile with on-going use.
Opalescence®
Opalescence offers a customized whitening treatment for yellow teeth using a handy gel available in 4 different concentrations to meet the diverse teeth whitening needs of our patients. Easy to use, Opalescence offers a brighter, healthier smile in a treatment available to fit any lifestyle.
Benefits of Smile Whitening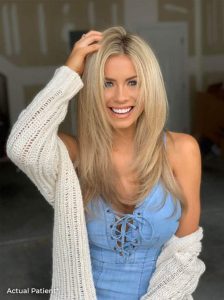 Throughout the years, drinking coffee or tea on a daily basis can add to the inevitable increase in stained and yellow teeth, causing people to become self-conscious, smile less, and even look older. In addition to these factors, other common causes of tooth stains include:
Aging
Grinding
Trauma
Wear & Tear
Tobacco Use
Certain medications, including antibiotics
Dark-colored food and beverages
Drugstore whitening kits can be less effective and actually damage your gums if applied incorrectly. An expert cosmetic teeth whitening dentist in Charlotte, North Carolina, like Dr. Broome, will always monitor treatments to ensure they are performed correctly. At our Charlotte dental practice, you'll have a luxurious experience as you relax in our comfortable office with access to many of our spa treatments, such as a paraffin hand treatment while relaxing in a massage chair.
ncbi.nlm.nih.gov
talks about how safe and effective teeth whitening treatment is with a cosmetic dentist. In as little as an hour, you'll leave our office feeling more striking and confident.
Frequently Asked Questions about Teeth Whitening
Q: Is teeth whitening safe?
A
: Yes! This cosmetic dentistry procedure is very safe when performed under the supervision of a professional dentist.
Q: Is the teeth whitening process painful?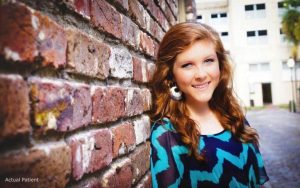 A
: The procedure is not supposed to be painful, though tooth and gum sensitivity may occur. If you already have sensitive gums/teeth or feel as though sensitivity will be a problem, inform the dentist and you can choose the whitening method that suits your teeth and gums best.
Q: Can I whiten my teeth myself?
A:
Whitening products that you purchase over the counter won't provide the same dramatic, consistent results that professional whitening can provide. Also, certain whitening products can increase tooth sensitivity and pain. The treatment should be performed under the supervision of a dentist who specializes in teeth whitening.
Q: How long do the results last?
A: 
On average, you'll have whiter teeth for the next six to nine months, though results depend on your teeth and upkeep after the procedure.
Q: Is Zoom!® teeth whitening affordable?
A:
Yes! Dr. Broome has a competitive package of affordable professional teeth whitening options.
Q: How can I maintain my teeth whitening results?
A:
After your treatment, it's important to avoid dark-colored food or beverages. If you do eat or drink foods that stain, it's important to rinse out your mouth immediately after to prevent yellowing. In addition, brushing twice-a-day, flossing, and maintaining regular check-ups and cleanings with your dentist can help reduce unsightly discoloration.
Q: Will teeth whitening work on bridges or dental restorations?
A:
Teeth whitening will not brighten existing dental restorations including veneers, crowns, fillings, bonding or bridges. It is possible to customize whitening treatments to match existing or new restorations.
Schedule Your Treatment Today
If you're interested in getting a whiter smile through one of our proven treatments,
make an appointment
with a cosmetic dentist in Charlotte today! We are conveniently located next to SouthPark Mall, and we are always ready for your visit. Contact the Charlotte Center for Cosmetic Dentistry to quickly achieve a brighter, more confident smile makeover through one of our safe and effective teeth whitening options. Call our practice for more information and to schedule an appointment in our Charlotte office with Dr. Broome. Next, read about
porcelain dental veneers
.