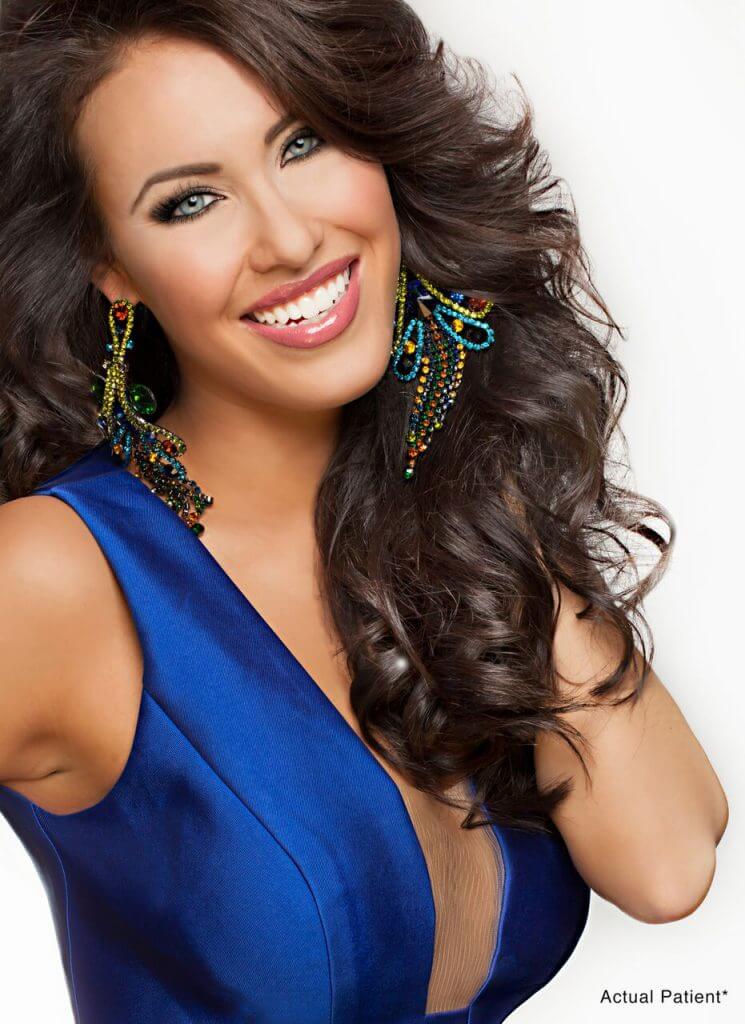 A smile is hugely important for our personalities, self-confidence, relationships, and success. We live in a world where an attractive smile plays a vital role in all areas of our lives. A recent study showed that two-thirds of the people surveyed were unhappy with their smiles. If you're troubled by chips, cracks, gaps, or stains on your teeth, you're not alone. It's possible to have straighter, brighter teeth without having to go through a long orthodontic process thanks to
porcelain veneers
at Charlotte Center for Cosmetic Dentistry. Porcelain veneers are the perfect solution for a variety of common teeth problems and can be used to correct aesthetic issues alone or in combination with other cosmetic or restorative dentistry procedures. A whiter, brighter, beautifully-designed smile with veneers is the perfect choice to transform discolored, chipped, or misaligned teeth. Thanks to their natural-looking appearance and wide array of functions, veneers rank among the most trusted and popular
cosmetic dentistry
procedures.
What are Porcelain Veneers?
Porcelain veneers (also called dental laminates) are wafer-thin shells of porcelain that can be customized to treat and cosmetically enhance your smile.
Porcelain veneers
are permanently bonded to the teeth, concealing tooth imperfections and creating beautiful teeth that look and feel natural.
What are the Benefits of Dental Porcelain Laminates?
Dental laminates can change the color, size, shape, and length of your teeth. When used as a chipped tooth treatment, porcelain veneers can be used to strengthen cracked or damaged teeth and restore their appearance. As a relatively conservative dental procedure, placing dental laminates requires minimal tooth surface removal. The porcelain is also highly resistant to staining, so unlike natural teeth, veneers can maintain their color even if you drink coffee, tea, and red wine. Not only do porcelain laminates look natural, but they can last between 10 and 20 years with proper oral hygiene and regular visits to your dentist. Best of all, laminates are custom-made for each individual, allowing
Dr. Broome
to create a specialized smile makeover for each and every patient!
What Issues Can Dental Laminates Help Correct?
Most people who are looking to improve the quality of their smile are candidates for veneers. Generally, candidates for dental laminates will have good enamel but need help to improve the following dental concerns:
Stained teeth:
Sometimes yellow or discolored teeth do not respond well to
teeth whitening treatments
. Laminate veneers are the perfect choice to cover stained or discolored teeth.
Short teeth and/or a gummy smile:
People with small teeth have two issues to address: the size of their teeth and whether they show a lot of gum when smiling. For these patients, dental ceramic veneers and/or a
gum lift
can lengthen the appearance of the teeth and help reshape the gum-line.
Damaged, chipped, or misshapen teeth:
Damaged,
chipped
, and misshapen teeth can easily be addressed with veneers. Porcelain veneers provide durable, long-lasting, and aesthetically-pleasing results. Porcelain veneers can be custom-made to correct tooth imperfections and rebuild the strength and durability of the tooth. Not only do veneers look natural, but they blend beautifully with the surrounding teeth and, as already mentioned, are resistant to staining or discoloration.
Crooked teeth:
Veneers are an excellent option for correcting alignment issues without spending years at the dentist. Porcelain laminates may be especially attractive to those whose crooked teeth have regressed after previous orthodontic treatment.
Gaps Between Teeth:
Laminate veneers can be used to close any gaps between teeth without the need for drilling or grinding down healthy tooth structures. Veneers will not only close the gaps between teeth, but create a natural-looking smile as well.
Frequently Asked Questions
Q: Will my veneers look like my normal teeth?
A:
Yes! Each veneer is custom-made to fit the shape of your teeth and is color-corrected to match your smile.
Q: How long will my veneers last?
A:
Porcelain laminates are extremely durable! They can last between 10 and 20 years with proper dental care, which includes daily brushing, flossing, and regular visits to
Charlotte Center for Cosmetic Dentistry
.
Q: Do porcelain veneers hurt or cause discomfort?
A:
No, the
veneer procedure
is not painful. Usually, teeth require little to no preparation and the procedure at our Charlotte office can be completed without anesthetic. Read more about dental veneer treatments at
WebMD.com
.
Schedule a Smile Makeover Consultation in Charlotte Today
Your smile makeover is just a consultation away! Contact Dr. Broome today to schedule your consultation at our Charlotte office. Whether you are interested in a smile makeover or another dental procedure,
contact
the dental experts at Charlotte Center for Cosmetic Dentistry for the most comfortable dental experience possible. Next, read about
Lacey's Smile Makeover with Veneers
. Related Tag:
Porcelain Veneers Charlotte