Laser Dentistry
Does the sound of the dentist's drill make you cringe? Have you been putting off filling that cavity due to dental anxiety? At Charlotte Center for Cosmetic Dentistry, Dr. Broome uses the latest and most advanced
laser dentistry
technology in a relaxing, spa-like office to ensure a comfortable experience while maintaining your dental health. Laser dentistry is a very effective, drill-free
cosmetic dentistry
treatment option for various dental procedures. Contact Dr. Broome's Charlotte office for more information and to see if this leading-edge dental technology is a suitable option for you! "If you smile when no one else is around, you really mean it!"
Read More
State-of-the-Art Dental Technology
The number of applications for lasers in dentistry is astounding. At Charlotte Center for Cosmetic Dentistry, we use the BIOLASE Waterlase® iPlus, one of the most advanced systems, for many procedures that would otherwise require drills or blades. With laser dentistry, your expert dentist Dr. Patrick Broome can complete procedures faster and more accurately. Because lasers are so specific, no measurable effect is seen beyond the intended target site. Further, there is minimal sound associated with laser treatment. The
lack of drilling
may help usually anxious dental patients relax and enjoy their time in our office. Because there is usually little or
no pain
involved in these procedures, guests can avoid the irritating numbness of local anesthetic and still enjoy a pain-free dental experience. Additionally, our massage chairs, memory foam pillows, chenille blankets, and paraffin hand treatments help our patients relax comfortably throughout their visit. See the
results
of cosmetic dentistry procedures we've performed in our Charlotte, NC office.
How Laser Dentistry Works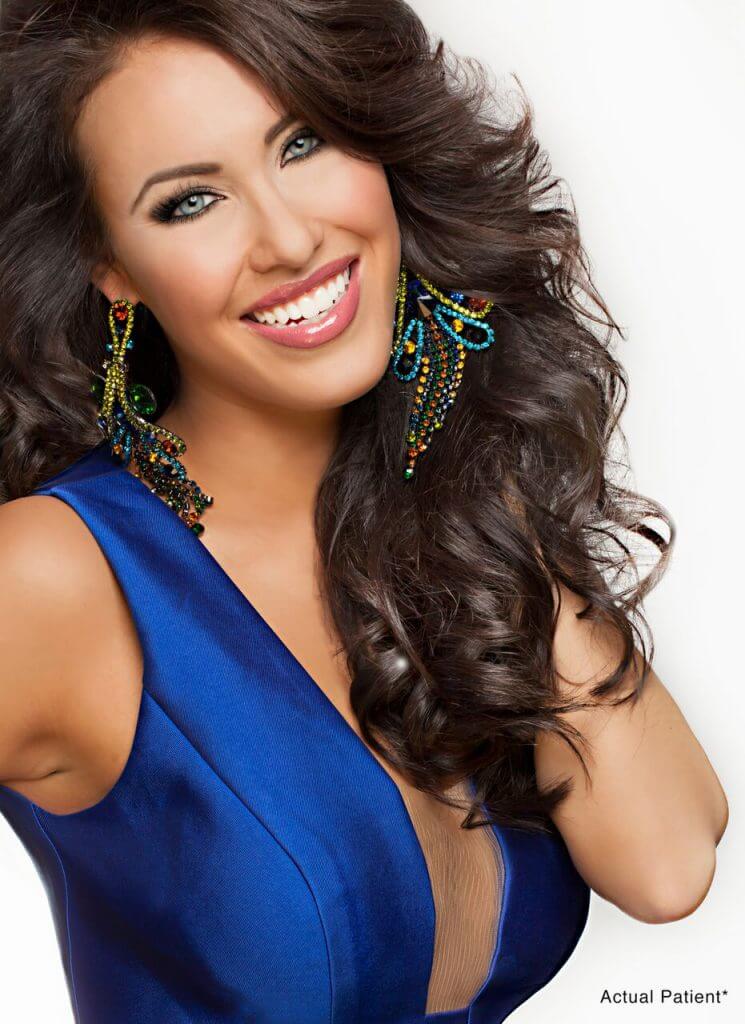 Charlotte dentist Dr. Broome will assess your dental needs and determine whether you would benefit from laser dentistry. For patients with cavities, removal can be accomplished using laser machines with the ability to remove decay within a tooth and prepare the surrounding enamel for bonded fillings. The need for anesthesia is greatly reduced or eliminated when using lasers over the traditional methods. Laser energy reduces bacteria caused by dental decay and aids in the tooth's ability to heal naturally in cases where deep cavities occur. Additionally, this process can be used in curing, or the process of hardening bonding materials. Further, many dentists believe that lasers help create a stronger restoration. To learn more about laser dentistry, visit
ncbi.nlmh.nih.gov.
Lasers and Soft-Tissue Procedures
Periodontal or gum-related care is another area in which laser technology is effective. In dentistry, soft-tissue procedures are those that primarily involve the gums. At Charlotte Center for Cosmetic Dentistry, laser dentistry can be applied to a wide variety of soft-tissue cosmetic dentistry treatments, such as tissue sculpting. Lasers are currently used for re-contouring or reshaping gums, removing extra or diseased gum tissue associated with the use of certain medications for gum disease, and removing the bacteria in gum pockets to promote healing. Due to the way the laser acts on the tissue, there is no pain or bleeding during the procedure, and healing is much more rapid than with traditional techniques.
Hard-tissue Laser Procedures 
Dental procedures that involve the teeth and bones are referred to as hard-tissue procedures. Laser dentistry applications in hard-tissue procedures include etching or roughening of a tooth's surface (as in preparation for porcelain veneers), reshaping of malformed teeth, bone sculpting, and removal of old porcelain restorations. Without the use of a drill, these procedures are fast and painless. This allows our Charlotte dentist to accomplish more in a single visit and enables the guest to get better results faster and with less discomfort.
Frequently Asked Questions 
Q: Is laser dentistry painful?
A
: There is usually little or no pain involved in these procedures. Guests can avoid the irritating numbness of local anesthetic and still enjoy a pain-free dental experience.
Q: Is treatment affordable?
A
: Dr. Broome does not charge any extra fee for utilizing the laser system. Dr. Broome has invested heavily in new laser technology for his practice. He feels it is the very best care he can offer and does not want cost to be an obstacle to patients who could benefit from this technology.
Q: Can these options do all that the drill can do?
A
: Lasers can't be used in certain dental procedures. For example, dentists can't utilize lasers to remove old silver fillings or for large dental crown preparations. Lasers are not used to remove defective crowns or bridges containing metal.
Q: Can Dr. Broome use the laser to remove my veneers?
A
: Yes! Dr. Broome pioneered the technique to use lasers to remove
porcelain veneers
. This technique allows the veneers to pop off and all the remaining tooth structure remains intact and untouched. This is a procedure Dr. Broome loves to use because it saves the patient's tooth structure, is minimally invasive, and makes the procedure much faster than when a traditional dental drill is used.
Contact Charlotte Center for Cosmetic Dentistry
Your smile is one of the first things people notice about you, and Dr. Broome believes that every patient should be able to achieve the smile of their dreams. If you are interested in laser dentistry during your visit to Charlotte Center for Cosmetic Dentistry, simply ask us if we can utilize laser technology for your procedure during your consultation. Please
contact us today
for more information about this safe, effective remedy for dental anxiety!