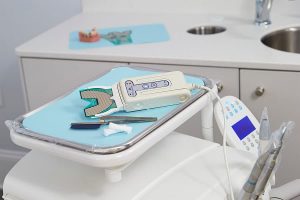 Do you feel like your bite is uneven every time you eat? Does your jaw ache on a daily basis? You may be experiencing the uncomfortable symptoms of poor tooth alignment, also known as a "bad bite." Fortunately, Dr. Patrick J. Broome's
dentist's office
in
Charlotte
is equipped with the latest, cutting-edge technology to provide the perfect solution to your unique dental health needs. Dr. Broome is proud to incorporate the T-Scan Digital Bite Analysis System into his patients' dental visits when necessary to reach the most precise diagnosis and treatment plan possible.
How does the T-Scan Digital Bite Analysis System Work?
U.S. Company Tekscan developed a revolutionary compact sensor that can be used to measure, record, and create a model of numerous aspects of a patient's bite. The
T-Scan Digital
Bite Analysis System uses Ultra-thin Mylar grid-based sensors within a very thin, flexible material that a patient can easily bite, allowing the sensors to quickly and accurately measure the exact location, force, intensity, and timing of the patient's bite. The information is automatically displayed in full-color, three-dimensional images on Dr. Broome's computer screen, allowing him to examine the data right away. Previously, dentist's would have to rely on waxes, articulated paper, and pressure indicator pastes to perform a bite check; however, not only would it take time for the dentist to gather and analyze the results, the information was limited and far from reliable.
What Issues Can the T-Scan Identify?
T-Scan has many
advantages
, the T-Scan can measure a wide range of details about your bite and mouth, which will allow Dr. Broome to diagnose dental issues including, but not limited to, the following:
Excessively forceful bite
Misaligned bite
Teeth grinding
Uneven fillings
Limited chewing ability
Impaired or slurred speech
Crooked teeth
Symptoms of temporomandibular joint disorder (TMJ)
With an accurate assessment of your bite, Dr. Broome can develop the appropriate plan for treating and correcting issues that may be causing pain, reducing functionality, or negatively impacting the appearance of your teeth and/or face. The T-Scan will allow you to get started on a customized treatment plan, such as:
Devices, such as Invisalign
Prosthesis
Dental restoration
Appliances to reduce effects of TMJ
Learn More About How a T-Scan Can Transform Your Smile
It's time to stop wondering and start taking control of your smile.
Contact us
today to learn more about
Charlotte Center for Cosmetic Dentistry
, Dr. Patrick J. Broome, DMD. Call (704) 364-4711 to schedule a consultation with Dr. Broome at the Charlotte Center for Cosmetic Dentistry today. Next, read about another method to
create your Hollywood smile
!