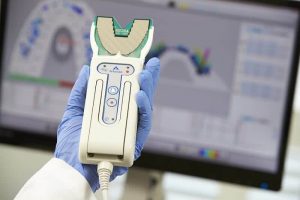 Dr. Broome and the
dentists at the Charlotte Center for Cosmetic Dentistry
have spent their careers reminding patients that their dental health is connected to their total health, but researchers from Karlstad University and the Department of Dental Medicine and the Aging Research Center (ARC) at Karolinska Institutet in Sweden are finding that your bite has even more bearing on your well being through the years. According to a
study
published in the
Journal of the American Geriatrics Society,
the Karlstad University and Karolinska Institutet evaluated the chewing ability of roughly 557 people around the age of 77 and older. The researchers found that individuals with multiple tooth loss and reduced or limited chewing ability when it came to hard food, like apples, had a significantly higher risk of developing cognitive health issues later in life, such as dementia. As we age, people experience a gradual deterioration of cognitive function, but with dementia, the rate is substantially increased, impacting an individual's attention span, language, memory, and problem solving. One of the theories behind the possible connection between chewing strength and mental health is that the less people chew, the less blood flow is directed to the brain. The results were relatively the same across varying ages, sexes, and education demographics, whether or not the individuals had real or false teeth. At the Charlotte Center for Cosmetic Dentistry, we provide more than just cosmetic dental services, we treat your oral health as a whole, utilizing the latest in dental technology to ensure our patients have not just a beautiful smile, but also a strong and healthy one.
Get an Accurate Bite Analysis
Using the
T-scan digital bite analysis system
, Dr. Broome and his team can perform a bite check to evaluate a patient's bite force, intensity, and quality of contact with exact, high-definition, 3-D digital movie files. The scan also takes relatively little time and can be administered comfortably. Patients need only bite a very thin material with sensitive pressure sensors. The T-scan allows us diagnose a wide range of issues that may be interfering with your bite, such as unstable dentures, fractured teeth, TMD/TMJ, or other types of dental trauma. With an accurate diagnosis, our team can create a treatment plan specific to your dental needs to ensure to correct and strengthen your bite.
Schedule an Appointment Today!
To learn more about your overall dental health with a T-scan, contact the Charlotte Center of Cosmetic Dentistry. Please call our office at (
704) 364-4711
or fill out an
online contact form
. Next, read more about
what a T-scan can do for your dental needs
.