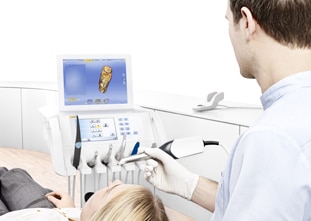 When it comes to getting the dental treatment you need, you might anticipate having to schedule multiple appointments, spending hours on end in the dentist's chair, and worst of all, receiving a hefty bill by the time everything is over. At
Charlotte Center for Cosmetic Dentistry
, we are proud to provide same day restorations to provide a wide range of custom dental solutions quickly, safely, and in most cases, in just one appointment. Dr. Broome and his team strive to provide the most comprehensive,
technologically advanced dental services
in the Charlotte, North Carolina area. Our in-office CAD/CAM technology enables us to provide our patients with all-ceramic restorations, onlays/inlays, and veneers in just a single appointment. To learn more about our CAD/CAM technology and how it can help you restore your beautiful smile, please contact our office at (704) 364-4711.
Dental Care – Faster, Safer, and More Predictable Outcomes
Our Sirona Galileos 3D Cone Beam CT (CBCT) scanner provides instant 3D images that Dr. Broome uses to diagnose and plan treatment. What's even more amazing is how he is able to merge 3D images with his other digital technology, such as our 3Shape and Cerec Omnicam intra-oral scanners. Dr. Broome now plans 100% of his implant surgeries digitally before ever touching the patient. Complications can be avoided and the results are very predictable. Our Practice Lab can also create custom surgical guides and 3D printed models in addition to the amazing
dental restorations
we create in-office. CAD/CAM allows us to design and create a beautiful all-ceramic restoration in about 10 minutes. Dr. Broome and his staff have mastered the 3D imaging, software, and techniques necessary to create or enhance your smile. The benefits of CAD/CAM same day restorations include, but are not limited to, the following:
1. Single Visit Dentistry – Implants and Crowns Completed in a Single Visit
Thanks to
digital dentistry technology
, evaluating a patient's dental needs takes only a matter of seconds. Creating a custom treatment plan is now based on 3D images that allow complete viewing of critical structures that were typically hidden on standard x-ray images. This allows us to see potential problems, avoid complications, and be more accurate with proposed treatment plans that are based on an ultra-accurate 3D image. Creating customized dental devices in less than an hour also means that our patients are in and out of our office with beautiful results faster than ever. A
dental restoration
can be successfully placed in a single sitting without the need for temporary crowns or multiple appointments. No more waiting days or even weeks for a dental laboratory to manufacture the devices you need for a perfect smile!
2. Only Getting that Numb Feeling Once!
No one enjoys getting an anesthetic shot or that numb sensation that is often necessary in order to be comfortable during your dental visit. But people do love same day dentistry - beautiful results and no second visit needed. That means more time for you to focus on the things you enjoy. One visit and you're done! Also, many patients don't realize that Dr. Broome doesn't enjoy getting or giving shots, so he works extra hard to make it as comfortable as possible when required!
3. Digital Chairside Consultations
With the 3shape and Cerec Omnicam intra-oral scanners, Dr. Broome can quickly scan and create a live 3D model with the
digital scanner
that can be moved and viewed on screen just like you are holding it in your hands. Not only do patients get a full view of their mouth that they don't usually see but they also can get a clear understanding of their current dental health and see the value of treatment options in real-time. They can also watch the entire process of imaging, analyzing, and creating their
custom dental solutions
in a matter of minutes. This advanced technology allows patients to have an inside look at the creation of the beautiful dental artwork that is designed specifically to fit their needs– all within a single appointment! Learn more about dental implants at
WebMD.com
.
4. No Messy Impressions
Thanks to precise 3D digital impressions, our patients no longer have to endure uncomfortable, messy impression materials of the past. Sitting with a tray full of gooey impression materials in your mouth and waiting for it to solidify for even a few minutes is outdated and makes almost everyone feel claustrophobic or uneasy. Now, within seconds, we use a wand-like device to video the patients' teeth and gums. The best part is, Dr. Broome can now achieve even better results than he did in the past with traditional impression material in just a few seconds.
Schedule Your Consultation with Dr. Broome in Charlotte Today
To see how advanced digital technology can make your visit more pleasant, relaxing, and best of all, convenient, please schedule your next visit with Dr. Broome in beautiful Charlotte, North Carolina. With our state-of-the-art dental technology, extensive training, and comfortable
spa-like office
, our patients receive the same-day custom dental solutions they need for a flawless smile. Don't wait to get the beautiful, healthy smile you've always wanted!
Contact
Dr. Broome at (704) 364-4711 today to set up your consultation! Next, learn about
Miss North Carolina's Experience with Us
!