"Our goal is to create a pleasant environment that promotes calmness and relaxation from the moment you enter our office. We approach dentistry differently and our focus is on providing a positive experience and exceptional results with every service we offer."
-Dr. Patrick Broome
Located in the heart of Charlotte's beautiful South Park District, Charlotte Center for Cosmetic Dentistry offers innovative treatments in the areas of general and cosmetic dentistry. With our state-of-the-art technology and unique spa experience, we are honored to be the destination of choice for dental patients around the world, including national syndicated radio personalities Bob Lacey and Sheri Lynch.
A Dental Experience Like No Other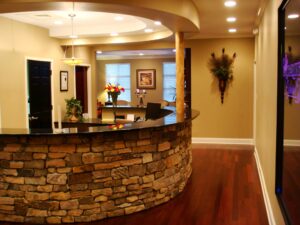 Charlotte Center for Cosmetic Dentistry was designed from the ground up to focus on patient comfort and relaxation. Our reputation for excellent aesthetics and outstanding customer service attracts patients from near and far.
Many of our patients mention that their first thought when stepping off the elevator is "I must be in the wrong place … this can't be a dental office!"   You'll see why when you arrive. Not overstated or pretentious but warm and inviting. Our patient lounge feels more like a friend's living room than a dental office. Shortly after you arrive, you will be escorted back to one of our treatment suites. On the way you can stop off and indulge with a complimentary paraffin wax treatment for your hands. Once in the treatment suite you will find one of our plush memory foam-lined dental chairs complete with back massage built-in waiting for you. Warm chenille blankets and a memory foam pillow for your neck are available to top off the coziness.
In our cosmetic suites we offer Bose noise-cancelling headphones that you can connect to your iPhone, Android, or to our over-the-chair LED TV's with more than 400 DirecTV channels. Watch the news, catch up on the latest sports scores or watch your favorite sitcom while we take care of your dental needs.
Spa-Like Amenities
Dr. Broome is proud to offer the following amenities to help patients relax and enjoy their visits:
Paraffin hot wax hand therapy
Built-in personal back massage chair
Individually controlled satellite TV
Noise-cancelling BOSE headphones
Luxurious chenille blanket and pillow
Sedation treatment at no extra charge
Sedation Dentistry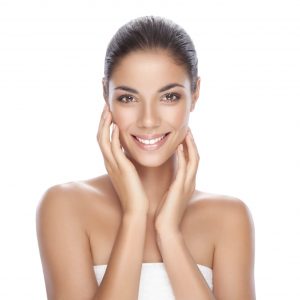 Is dental phobia preventing you from undergoing necessary or desired dental procedures? Dr. Broome and the Team at Charlotte Center for Cosmetic Dentistry don't want fear to prevent anyone from achieving the smile of their dreams. That's why we offer several options for sedation dentistry.
Oral sedation and IV Sedation are excellent options to help our patients overcome fear and anxiety. Hundreds of our patients have been able to break the fear barrier and experience a relaxing dental experience. Our sedation options will allow you to be relaxed and remember little to nothing of your visit while while still being able to answer questions during the procedure.
With sedation dentistry, you can rest assured that your dental experience will be pain-free and you can always count on us to deliver exceptional results.
Get in Touch With Us Today
At Charlotte Center for Cosmetic Dentistry, we believe that going to the dentist s can be very similar to a a day at the spa. If you would like to experience our unique brand of dental care for yourself, don't hesitate to call (704) 364-4711 or contact us online for an appointment. Dr. Patrick Broome and the rest of the Team look forward to meeting you and learn more about what matters most to you.
Next, read about our philosophy of practice.
Call Now

to
Schedule Your Consultation
(704) 364-4711