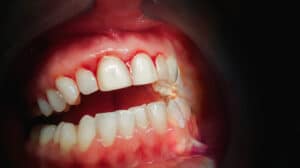 We all have experienced
bleeding gums
at some point in our life.  It can happen at any age and is most often caused by trauma from a foreign object being lodged between the gun and tooth or from poor oral hygiene. The first thing to realize is bleeding gums are not normal. Everyone should pay close attention to any area of their mouth that bleeds. Increase flossing, and rinse with warm salt water usually provides a resolution in 1-2 days. If the situation continues we suggest visiting your dentist as soon as possible for a problem-focused evaluation.  While bleeding gums can be a painful and frightening experience, there are steps that you can take to avoid your gums bleeding. Visiting your dentist at least every six months for routine cleanings and a check-up on the health of their mouth is a great preventative measure. Regular visits allows your dental team an opportunity to catch problems early before they turn into major issues. Plus, we can make sure you're always up on the latest products in oral health care products. Dr. Broome at
Charlotte Center for Cosmetic Dentistry
regularly see patients with bleeding gums and have established protocols designed to help patients make it easy to follow their home care and know exactly needs to be done to get back to optimal health.
What Causes Bleeding Gums?
Like we mentioned, there are a number of issues that can cause the gums to bleed. The most common is poor oral hygiene, which leads to a buildup of plaque and tartar, which in turn leads to gingivitis (gum inflammation) or even periodontitis (infection around teeth).
Gingivitis
is one of the most common forms of gum disease, and when left untreated can turn into periodontal disease which is a serious infection of the gum and bone around your teeth. Approximately 60-80% of the entire American population (regardless of age) suffer from some form of periodontal disease. Periodontal disease is actually one of the most common chronic disease in the world. Bleeding gums can also be a symptom of Periodontal Disease, CDC
website
shares some details. When caught at an early stage, gum disease can be treated. However, if left unchecked, it can ultimately lead to bone and tooth loss. Every member of the team at Charlotte Center for Cosmetic Dentistry is committed to helping patients find optimal health and keep their smile healthy and beautiful.  We all know the bone is the foundation which supports the teeth and your smile. It makes sense that if there is infection that threatens that foundation we would be concerned. The words, "Gum Disease" can be unsettling, but rest assured that Dr. Broome has solutions that include active therapy for all stages of periodontal disease.
How to Avoid Bleeding Gums
The best way to avoid bleeding gums is simply to practice consistent good oral hygiene and see a dentist regularly. Dr. Broome believes in co-discovery and working as a partner with every patient. He will identify an issue and use digital pictures, radiographs (x-rays), DNA testing, as well as our digital microscope sampling to show you what we see. Our patients tell us they love being able to actually see what we see and feel like they can participate in their own healthcare. Today, a wide range of minimally invasive techniques are available to solve problems. We also have a wide variety of home care products that can make your job much easier and less frustrating. We all love less stress and less worry! Remember, the mouth is the gateway to the rest of your body and any problems here will show up in other areas of the body. An area that is bleeding in the mouth is an open door to your entire circulatory system. Inflammation and infection in your mouth doesn't stay isolated there but travels via the bloodstream to parts of your body. Research shows almost all diseases are related to inflammation. Our goal is simple, promote health by actively working to reduce inflammation and infection in the mouth and prevent it from spreading to other areas of the body! Charlotte Center for Cosmetic Dentistry is not just about cosmetic dentistry. We also provide a full range of general dentistry services in a relaxing and luxurious facility. We encourage regular visits, which allows us the opportunity to make sure you are on track and healthy. Plus, it's easy for us to help you look and feel your best!
Concerned about your gums? Schedule a Consultation!
If your gums are bleeding, please give us a call right away to
schedule a consultation
with the expert dentist at Charlotte Center for Cosmetic Dentistry. To learn more about what could be causing your dental bleeding and to make your appointment, just call (
704) 364-4711
 today! Next, read about
the oral-systemic link between periodontal disease and total health
.