Conservative veneers are a great way to upgrade your smile, as they provide a natural look. Total treatment time was 3 weeks.
This patient's veneer treatment resulted in a very natural appearance. Total treatment time was 3 weeks.
Ultra-thin restorations can be placed to blend seamlessly with your natural teeth and defy detection.
This patient had a Full Mouth Rejuvenation with all-porcelain restorations that were placed to rebuild her smile. Total treatment time was 5 weeks.
Veneers can create a completely new bite to improve functionality and maximize the life of restorations.
Veneers can help you achieve a bright white smile in just 2 visits with Dr. Broome.
For this patient, we utilized our laser restoration removal technique and prepared the teeth for 10 pressed porcelain restoration. Total treatment time was 3 weeks.
Not only can veneers improve the color of your teeth, but with laser tissue sculpting, symmetry and balance can be restored.
Veneers can improve your bite, which restores symmetry and eliminates any functional interference and prevent future tooth breakage and wear.
At Charlotte Center for Cosmetic Dentistry, we specialize in veneer treatments to correct issues with shade, shape, and functionality.
This patient came to Dr. Broome after a workplace fall broke some of her teeth. Veneers at the Charlotte Center for Cosmetic Dentistry restored her beautiful smile.
This patient had veneers placed to improve the color and shape of her teeth, resulting in a refreshed smile.
A custom porcelain veneers treatment transformed this patient's teeth into a whiter, brighter smile.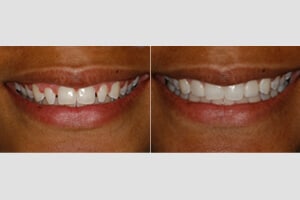 Patient with undersized teeth, also known as "peg laterals," underwent a smile makeover with Dr. Broome in which he used no-prep porcelain veneers to rejuvenate her smile.
Charlotte's Leading
Cosmetic Dentist
Schedule Your
Appointment Today